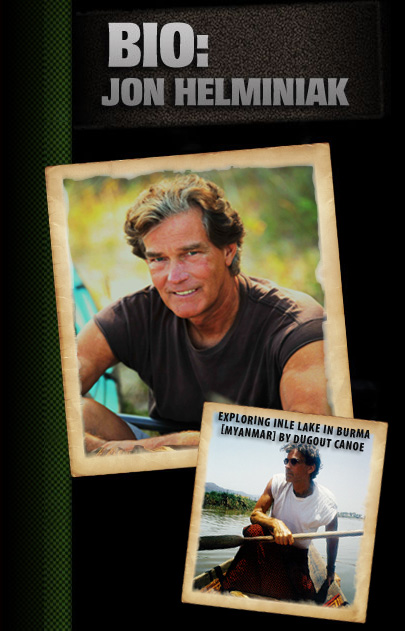 Jon Helminiak has independently explored over 60 different nations including self-planned wilderness trips in Alaska, Myanmar, Chile, Central America, Indonesia, Scandinavia, Europe and Nepal. Jon was the first American to complete a solo kayaking expedition through the Raja Ampat Archipelago near West Papua, New Guinea.

Most recently, he was also the first American to complete a solo kayaking expedition along the coast of Oman, on the northeastern edge of the Arabian Peninsula.
Jon is a graduate of the National Outdoor Leadership School's Baja Sea Kayaking program, and is an instrument rated, single engine, multi-engine pilot with more than 2500 hours of logged pilot in command time, including numerous flights through Mexico and Canada. He is a certified open water scuba diver and has dived over 20 of the world's premier dive sites including the Truk Lagoon in Micronesia, the Gulf of Oman, Cuba, Belize, and Myanmar's [Burma's] Mergui Archipelago.
Some of Jon's adventures are chronicled in his popular book, Nothing Routine - A Quest for Adventure in Remote and Strange Places. The book is required reading at several high schools and universities for both its writing quality and the way it exposes the reader to the value of travel and wilderness adventures.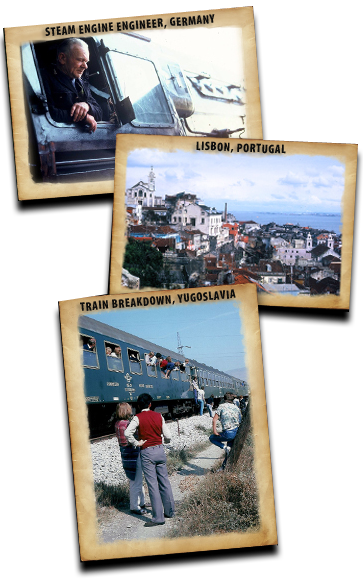 Jon earned a Bachelor's Degree from the University of Wisconsin-Madison where he was a member of the Division I NCAA Champion rowing [crew] team. He also completed a semester of course work in London, and spent three-months in the former Soviet Union performing musically [piano] and competing in basketball tournaments against the Soviet Army.
After graduation, Jon spent six years as the assistant executive director of the Manito-wish YMCA, an organization that teaches leadership skills to youth via wilderness expeditions ranging 3 to 60 days in length. He then held a director position at the University of Wisconsin Foundation, and served as Assistant Chancellor for Development and Alumni Relations at the University of Wisconsin-Milwaukee. In both positions he worked with the university's most successful alumni including Walter Mirisch [academy award winning movie producer], Dr. Tawat Wichidit [former chief of staff to the Prime Minister of Thailand]. He also had overseas assignments in Japan, South Korea, Taiwan, Thailand and Hong Kong.
In addition to managing Adventure Quest Productions, Jon is the author of five published books and is presently writing the biography of businessman and philanthropist Terry J. Kohler. He is the former Executive Director of the Aviation Heritage Center of Wisconsin, where he founded and led two commemorative exhibits of national recognition: a tribute to the Hmong pilots of the U.S. Secret War in Laos and the recognition of North Central Airlines. Both projects included the acquisition of historic aircraft, a North American T-28 and Douglas DC-3.
In 2017 Jon founded the Great Lakes Air Museum and Conference Center, a significant, multi-million dollar development to be located at Waukesha County Airport, west of Milwaukee.
From 2018-2020, Jon was the Executive Director of the Tunison Foundation, a nonprofit organization which owns and operates a WWII C-47 aircraft named Placid Lassie, that actually flew on D-day, June 6, 1944.
In summer, 2019, Jon helped orchestrate Placid Lassie's return to Normandy as the lead aircraft of the D-day Squadron, a fleet of fifteen, WWII C-47 aircraft that flew from the United States to France to commemorate the 75th Anniversary of D-Day. In May, 2019, the squadron crossed the north Atlantic and arrived safely in Scotland before crossing the English Channel to Normandy on June 5, 2019. In Normandy, on the 75th Anniversary of D-day, Placid Lassie dropped paratroopers over the original Normandy drop zones, and led the presidential wreath laying ceremony flyover above Omaha Beach.
After Normandy, Placid Lassie and her crew flew to Germany to commemorate the 70th Anniversary of the Berlin Airlift. At Jon's personal invitation, Col. Gail Halvorsen, age 99 (the Berlin "Candy Bomber"), and the hero of the Berlin Airlift (1948-1949), joined the Foundation as an honorary crew member.
Jon is a consultant for non-profit organizations in the areas of strategic planning, marketing, and financial development. Jon serves on the board of directors of numerous organizations and is a dynamic and popular inspirational speaker.