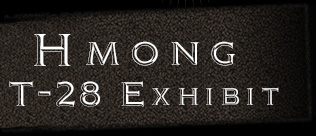 Honoring a Select and Fearless Group of Combat Pilots
Jon, I can't begin to put into words how fortunate I am to have been able to work on the T-28 restoration and exhibit project with you. It has been an honor to be among dedicated pilots, historians and people who simply have a love for the realm of aviation.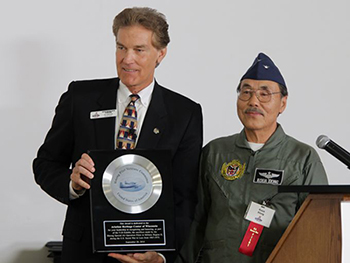 Jon and former Capt. Koua Xiong, 2500 mission
combat Pilot, U.S. Secret War in Laos.

Never have I been graced with such diverse and selfless group of people such as yourself who would go to extra lengths to make someone else's dream become a reality.
Former Capt. Koua Xiong
T-28 Pilot of 2500 Missions
U.S. Secret War in Laos
---
Between May 2012 and September 2014, Jon Helminiak founded and led a major aircraft restoration and exhibit project at the Aviation Heritage Center of Wisconsin.
The T-28 exhibit honors the Hmong pilots who flew the North American T-28 "Trojan" and other aircraft from remote airstrips in support of American CIA covert operations during the U.S. Secret War in Laos between 1967-1975. With the help of T-28 airshow pilot Paul Walter, Jon found and acquired North American T-28 aircraft, BU (Bureau Unit) #138192, that was used to train Hmong pilots to fly at Udorn RTAFB (Royal Thai Air Force Base) Thailand, as part of Operation Waterpump. After receiving many approvals for the exhibit, EAA (Experimental Aircraft Association) Chapter 766 began a six month restoration effort or the aircraft.
The Hmong T-28 Exhibit is the only exhibit of its kind in the nation that recognizes the sacrifice made by the Hmong pilots in the name of freedom to defend their homeland during the Vietnam War. The exhibit was dedicated at 2:00 p.m. on Saturday, September 20, 2014, at the Aviation Heritage Center in Sheboygan Falls, Wisconsin and attended by U.S. Senator Ron Johnson (R-WI). Other men who are honored by this exhibit are the Ravens (a brave and select group of clandestine American pilots who flew as Forward Air Controllers alongside the Hmong in Laos), and the T-28 Instructor Pilots of Det. 1, Special Operations Wing 56, who taught 37 select Hmong pilots to fly the T-28.
| | | |
| --- | --- | --- |
| U.S. Senator Ron Johnson addresses the Hmong pilots and the attendees at the dedication of the T-28 attack aircraft in their honor on September 20, 2014. | Jon Helminiak, founder of the Hmong T-28 exhibit and Master of Ceremonies on dedication day. Standing behind him are Former Air Force One Pilot Greg Cayon and U.S. Senator Ron Johnson. | Jon Helminiak with former Hmong T-28 pilots Yia Kha and Ya Lee. |
| Former T-28 Instructor Pilots who taught the Hmong to fly at Udorn Royal Thai Air Force Base also attended the Hmong T-28 dedication and celebration banquet. | Pictured is the reception at the Aviation Heritage Center of Wisconsin flight museum prior to the dedication day celebration banquet. | Jon's father, WWII B-17 pilot Lt. Col. (Ret.) Raymond Helminiak attended the dedication ceremony. With him are Former Air Force One Pilot Greg Cayon and his wife Paige. |
| On September 20, 2014, 9 of the 13 living Hmong pilots who flew in the U.S. Secret War in Laos attended the dedication of a restored T-28 aircraft in their honor. | Hmong T-28 aircraft, Bureau Unit No. 138192, restored through thousands of volunteer hours by the members of EAA (Experimental Aircraft Association) Chapter 766 in Sheboygan, Wisconsin. | Five members of the Trojan Horsemen Flight Performance Team flew their T-28 aircraft at the conclusion of the dedication ceremony. |