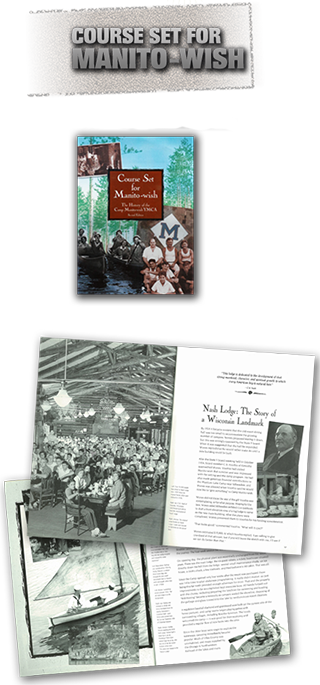 The History of the Camp Manito-wish YMCA
This is the story of the Camp Manito-wish YMCA. Located on 350 pristine acres in northern Wisconsin, its enviable facilities and philosophy of youth development have made it one of America's premier youth organizations.
Camp Manito-wish was founded in 1919 by the State of Wisconsin YMCA when it purchased the rustic Rabbit's Foot Resort. That same summer, young men were introduced to the mental and physical challenges of wilderness living. Today Camp Manito-wish offers a comprehensive program of leadership adventures that span the globe.
Camp Manito-wish could not have succeeded without the commitment of its founders and the stewardship of those who followed. In Course Set for Manito-wish, the author recounts theses efforts and documents significant episodes in the camp's history including the first rugged years, program development, building construction, land acquisition, World War II, and its move to become an independent YMCA.
Camp Manito-wish may be one of Wisconsin's best kept secrets. Yet thousands claim it had changed their lives. This book attempts to preserve its remarkable history and perhaps explain its unique mystique.
Land O' Lakes can be found at amazon.com.
Reader Reviews of Course Set for Manito-wish